It's easy to lose workout motivation during the winter season. Check out these five exercise ideas that are perfect ways to stay active in spite of the winter weather.
Winter is a real hit-or-miss season in terms of staying active and in shape.
First, let's look at wintertime activity optimistically. There are a number of winter exercise ideas and activities that you can only participate in during the winter–think skiing, sledding, outdoor ice skating and hockey, etc. Furthermore, there's the whole matter of New Year's resolutions; winter is a time when people set goals and often make a fresh effort and commitment to exercise and healthy living. These resolutions often provide people with extra motivation to get the exercise they need.
But there are some real negative elements of winter for those seeking to get active or stay active: namely, the weather. For those who participate in predominantly outdoor activities (think running, hiking, biking, etc.), cold, bitter weather can present a serious setback. Afterall, it's hard to feel particularly motivated to embark on that 8K when it's only 8 below outside.
There are several approaches to the setbacks winter poses. You can grit your teeth, tough it out, and maintain your usual activities. But another option is maintaining your level of activity while adjusting your exercise regime to season-appropriate activities. For many people, a change of activity helps them maintain exercise consistency even with the cold, uninviting weather.
If you're ready to brace yourself and stick to your exercise commitment, check out this list of great winter exercise ideas.
Stay Active With These Five Ideas
Whether you're looking to exercise at home out of the cold or want to try out some winter-only outdoor activities, these winter exercise ideas will help you to stay active all winter long:
Yoga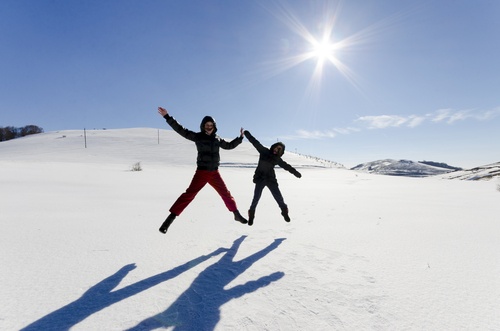 Yoga is a great home exercise for cold winter days. Whether you're practicing intense, cardio-heavy vinyasa yoga or soothing restorative yoga, this activity is a great way to stay active and in shape from the comfort of home.
Zumba
If you don't feel like braving the weather but want a fun way to burn a ton of calories, strengthen muscles, and keep your heart rate up even in the dead of winter, Zumba–the popular dance workout–is a great solution.
The Usual Suspects
That's right–crunches, push-ups, sit-ups, lunges, planks, downward dogs, and squats. These are standard gym workout fare, but you don't need a weight room or gym membership to do them. You can put together a routine of doing these simple exercises at home.
Snowshoeing
File this under the only-in-winter category of winter exercise ideas. If you're a fan of hiking, running, or walking, snowshoeing throws an awesome, unique winter spin on these activities. Many outdoor gear stores offer snowshoe rentals if you don't own your own pair.
Gym Membership
And if you're someone who doesn't feel like braving the weather and doesn't have the resources or space to exercise at home to the degree you'd like, a gym membership can be the perfect solution. Whether you're looking to lift weights or swim, gyms offer great opportunities for winter exercise.

These winter exercise ideas offer excellent opportunities for staying active and in shape this winter. And if you're looking for access to great exercise and wellness programs, coaching, and resources, the wellness experts at Wellworks For You have everything you need. To learn more and get connected with a healthier you this winter, contact Wellworks today.