Looking to increase your ROI in a professional, easy to manage way? We've got your answer.
Expanding your business can be tricky, especially when you lack the help you need to get there. Many businesses have found that the ROI when working with corporate health and wellness companies averaged $1.50 in return for every $1.00 spent. According to the Society for Human Resource Management, more than two-thirds of United States employers are offering health and wellness programs to their employees.
Why not extend this service to your customers? Our broker program allows you to put your brand on Wellworks' services and offer them to your own clients!
Corporate Health and Wellness: Companies That Thrive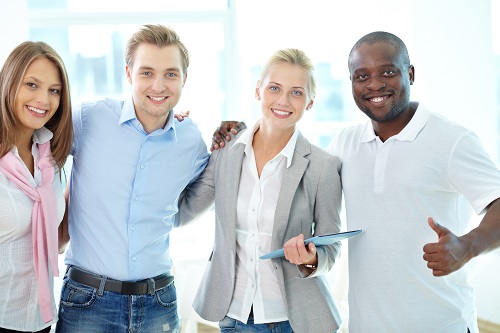 If you're currently utilizing a corporate health and wellness company for your employees – you already know the benefits you reap from them. In case you are not clear on these benefits, a few include (but are not limited to):
Reduced Absenteeism

– Costing around

$3,600 per year for each hourly worker

, absenteeism drastically affects companies all around the United States. 86% of full-time employees are above normal weight

or

have at least one chronic condition. When you offer health and wellness opportunities, you reduce the chances of absenteeism and provide an outlet for those with preventable diseases to reach out for help.



Boosted Employee Morale

– With programs that encourage teamwork, exercise, and overall health and wellness; participants experience a better sense of self. With our

health and wellness activities

, our

Health Coaches

help people reach their goals, along with encouraging them along the way.

A Better Work Ethic

– Can you imagine your employees looking forward to coming into work? When you sacrifice time and money into the lives of your employees, they know it. In fact, the number one reason why employees leave their jobs is because they do not feel appreciated or recognized. A great way to show your appreciation is to give them services they otherwise can't afford or wouldn't receive anywhere else.
By allowing your customers to also reap these benefits with their employees, you will establish a trust that is unbreakable. With our in-depth knowledge and experience in establishing health and wellness in the workplace, you can rest assured that you're getting the best and most professional services possible.
Are you interested in health and wellness ideas from corporate health and wellness companies? Wellworks For You would love to provide you with more information on our Broker Program. You can give us a call at 800-425-4657.

Wondering what Wellworks For You offers over other corporate wellness companies? Check out our comparison chart here!
Related Tags: Corporate Health and Wellness Companies | Wellness Companies