5 Quick and Easy tips for staying healthy at a desk job.
Many of us are tied to our desks and that is a challenge to maintaining good health. Perhaps you have a gym membership, but can't seem to find the time to go. We understand, and that's why we want to share quick and easy tips on how to stay healthy at a desk job.
According to the National Institute of Health, living a sedentary lifestyle leads to increased risk of cardiovascular disease, type 2 diabetes, obesity, and some cancers. The question is how to combat that when we have a desk job. First,
Assess your work space. What type of chair are you using? Do you use ergonomic tools like cushioned mouse and keyboard pads?

Organize your work area. Put the things you use most frequently in a place that requires you to stand, walk, or stretch in order to get to them.
Quick and Easy Tips on How to Stay Healthy At A Desk Job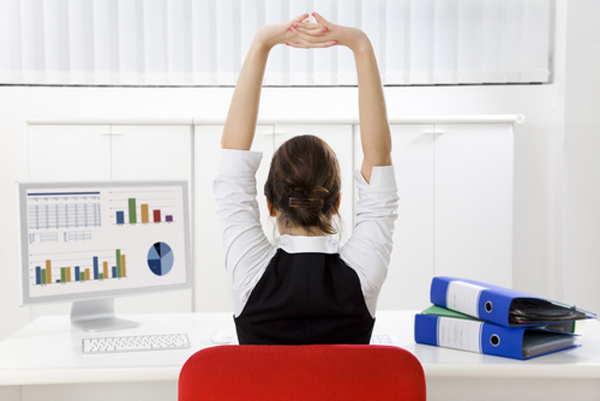 Once you've assessed your work space and made a few basic changes, then you can begin to implement small changes and make them part of your daily routine. Here are our tricks on how to maintain good health at a desk job.
Plan ahead. Going out to eat may be more convenient, but the food is typically twice the size of what's considered a healthy portion. Restaurants often use more salt and sugar in their foods than the food you make at home. Prepare your lunch beforehand. You can make a large portion of food on Sunday, freeze it, and then you can eat a portion of it at lunch each day. No time to cook? Then bring snacks that are high in protein and fiber to help keep you energized throughout the day.

Start small. If you work on the fifth floor, but get tired climbing the stairs after the first floor, try taking the elevator to the fourth for a week, then next week take the elevator to the third floor and walk up stairs. You can also use the bathroom in a different part of your office or on a different floor, just to increase the amount of movement you get each day.

Walk more. If you take public transportation to work, you can get off at one or two stations before your stop and walk to the office. You'll add even more steps each day if you do this going to and from work.

Minimize your caffeine intake. Coffee and soda are common pick-me-ups when you're low on energy, but they can dehydrate you. Soda is filled with sugar and empty calories. Keep bottled water on hand instead because it helps keep you hydrated and it's filling so you'll want to eat less. Don't like the taste of water? Try adding fresh lemon, cucumber, or orange juice to give it a little flavor.

Stand up! Challenge yourself to walk for just five minutes every hour or so. If you have meetings to go to, suggest a meeting where people can walk or stand.

Stretching & posture. Doing some basic stretches can help reduce tension and stress in your muscles. Be sure to watch your posture, you may want to switch out your chair for one that provides proper lumbar support. Creating healthy desk job habits can help you stay in shape and keep you energized throughout your work day.
It takes 30 days to start a new routine. Big changes can be hard to start, so start small. If you need more motivation and want to learn more about how to stay fit at a desk job go to www.wellworksforyou.com.