Corporate wellness programs are now offered by many major companies across a wide variety of industries. These programs have been proven to lower healthcare costs by facilitating positive change in the health of employees and providing the workplace with educational resources on overall wellness. A basic program can be enhanced by adding a number of additional events, resources and challenges. Matching your employees with a health coach can be one such way in which you can supplement your corporate wellness program. Wellness programs that utilize the services of health coaches are more successful and have higher rates of participation from employees.
What Does a Health Coach Do
Your employees may be interested in a corporate wellness program in theory, but maybe they're not exactly sure how to effectively implement lifestyle changes in their daily routines. Matching them with a health coach will provide them with the emotional and mental support that they need to commit to a healthier and more balanced lifestyle – both in and out of work. Health coaches can help employees by: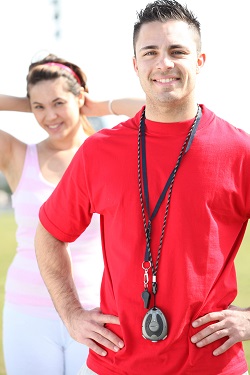 Setting goals
Building a trusting relationship
Offering advice on fitness, diet, etc.
Education about a variety of issues
And much more
A health coach has a lot to offer your employees. A little support can go a long way when it comes to encouraging program participants in their new decisions and lifestyle choices. Health coaches can help facilitate real change in the lives of your employees.
How Does a Health Coach Boost ROI?
Believe it or not, matching your employees with their own personal health coach also boosts your ROI in a big way. Health coaches provide education and advice for your employees on a variety of topics including:
Stress management
Nutrition
Fitness and exercise
Stress Management
Smoking cessation
Tips for managing medical conditions
And more
All of this support will encourage and motivate employees to actively participate in and stay committed to your corporate wellness program. This will ensure that your healthcare costs will be lower. With generally healthier employees, you'll have less people missing work due to sick days. Workers compensation premiums will also be lowered. Basically, the healthier your employees become, the better your ROI will be. In order for this to happen, your corporate wellness program must be well attended. Health coaches provide a much needed support system for your employees to stay motivated.
Matching Your Employees
Your employees will appreciate the personal touch that a health coach can give them. In our professional opinion, providing your employees with health coaches is an essential element to having an efficient wellness program. These health "mentors" are experts in fitness, nutrition and a variety of health-related topics. They are also great communicators and are effective in providing one-on-one accountability.
For more information on health coaches or on starting a corporate wellness program, contact us. We offer unique and personalized service by building custom packages for each and every client.