A wellness portal, which is a centralized hub for keeping track of the variety of activities and resources that have been made available to your employees within your corporate wellness program, is a key element of any workplace wellness initiative. Some companies already have a natural culture of corporate wellness, but many have to work hard to achieve that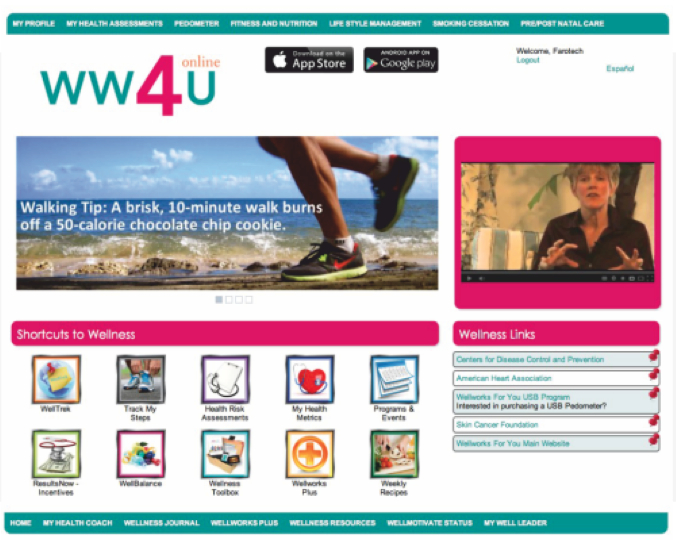 atmosphere in the workplace and an interactive wellness website or portal is a great place to start. Once the momentum of a wellness program has begun, it is only logical to have a wellness website in place to organize and sustain that momentum. Wellworks provides a customizable portal for all of their corporate clients. There are many benefits to having a scalable wellness portal for your company, but we will focus on just five of them: increased efficiency, easy access, information security, less waste, and increased participation.  
The Many Advantages of Having a Workplace Wellness Portal:
Increased Efficiency
Implementing a wellness portal makes organizing the various aspects of your program an easy process. You can efficiently communicate information all in one place so that all of your staff be on the same page. A portal should allow you to provide information on upcoming events, opportunities and announcements. Gone are the days of inner office newsletters and paper flyers floating around for a week before they get thrown out. Everything can be posted in the portal and viewed immediately on the web. No more annoying office memo reminders.
Easy Access
A company wellness website is easy to access. You don't have to search your inbox for the latest email or your desk for a piece of paper. Everything your employees need to know is right in a secure, but easily accessible online website. When a wellness program is accessible, people are more likely to appreciate it and take advantage of it. Since your employees are most likely on the computer all day already, it will be a natural extension of their work to check out the wellness portal on a daily or at least weekly basis.
Information Security
Since a wellness program incorporates medical history and other sensitive information, employees need to know that their privacy is being respected. Our wellness portal provides a secure login and password for each individual. Personal information can be sensitive, so the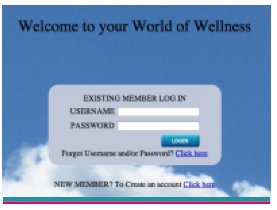 wellness website creates a safe and secure place to store and view private details related to individual health and goals. Each employee's information, as well as their personal results, is all kept completely confidential. As the employer, you will be able to view metrics necessary for planning and tracking purposes, but otherwise your employees can rest assured that access to their personal information is secure.
Less Waste
A wellness program teaches individuals to care about the health of their bodies. In keeping with responsible thinking, we should also encourage a workplace culture that cares about the health of our planet. An online wellness web portal provides a convenient place to go for necessary information without wasting unnecessary paper copies. No more paper flyers, newsletters, brochures or announcements that eventually end up in the trash anyway. There is also less wasted time when a wellness portal is utilized. Employees can login and find what they need – all at a glance. 
Increased Participation
Because of all the benefits we have listed so far, employees are more likely to engage in a wellness program that features the use of a personalized wellness website. It is easy to access, it is secure, and it even creates a lively community aspect for your various programs and challenges. People join online communities all the time. A wellness portal is a great way to encourage participation and engagement with your corporate wellness program online. One of the best steps you can take toward creating an environment of health within the workplace is to encourage employees to participate and utilize a customizable and scalable wellness web portal.
{{cta('c51f3378-88c3-40bd-8fe4-193b2edee5bc')}}