October is Breast Cancer Awareness month and everyone from sports teams to non-profit organizations are wearing pink in support of the cause. Various breast cancer awareness groups have fought to keep this serious illness in the forefront of medical studies and women's health. Helping women become informed about their bodies is one of the first steps. There is a huge emphasis on detecting any problem early, so women are encouraged to go to a breast screening regularly. It has been reported that 1 in 8 American women will develop some form of invasive breast cancer in their lifetime. After lung cancer, breast cancer is the most common disease women die of today.
What Can You Do?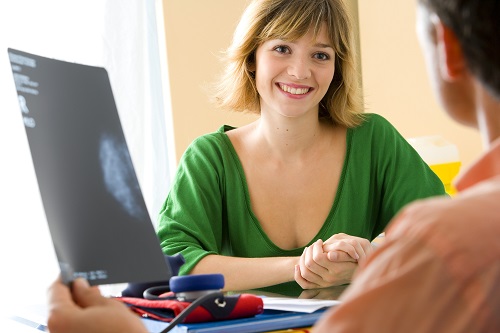 Those statistics may sound scary, but there are many things you can do to prevent, diagnose, and treat breast cancer. You need to pay special attention to your family history. If your mother or sister has been diagnosed, it doubles your chances of developing breast cancer. Another 5-10% of cases have been traced back to inherited gene mutations. And yet, about 85% of breast cancer cases occur in women who have no family history of the disease. However, with preventative action and early detection, the quality of life beyond the diagnosis is hopeful. The National Breast Cancer Foundation offers an informative and helpful website. It includes an Early Prevention Plan app that will remind women to do a self breast screening at home and schedule necessary appointments, including mammograms. Find it here: http://www.nationalbreastcancer.org/breast-cancer-awareness-month.
Your Annual
Breast Screening
Yearly mammograms and breast screenings are recommended for women once they turn 40. Women who are in their 20's and 30's should have a clinical breast exam about every 3 years. Women can begin doing self breast exams in their 20's. An annual mammogram is a breast screening done in a medical office. It is essentially an x-ray of the breast tissue. Doctors use it to detect and evaluate changes in the breast. Using this technology, doctors can identify any changes and detect cancer at the earliest stages. Mammograms have been found to lower the risk of breast cancer deaths in women over 50 by 35%, because of this early detection.
Top 4 Benefits of Mammograms
There are many benefits to this annual breast screening. First, they can save your life. Early detection means a greater chance of survival. Second, even though it can be uncomfortable, it is a fast procedure. It only lasts about 20 minutes, which every woman can fit into her schedule once a year. Third, a mammogram is the most powerful tool for breast cancer detection. It has been used with great success. And fourth, going in for your mammogram gives you an opportunity to discuss any concerns or family history with your doctor.
It's easy to put off medical procedures, especially if you feel fine. But if you have a family history of breast cancer, a simple 20 minute breast screening can either put your mind at ease or save your life.