What are
Health Risk Assessments
?
Health risk assessments are tools that provide key information for their users regarding their risk for certain health problems and diseases. Different assessments utilize different approaches to obtain and sort through this data and can be focused on a wide range of issues.
The Know Your Number® assessment in particular evaluates an individual's risk for nine chronic diseases. These nine diseases are the most costly and most modifiable diseases known and include:
Diabetes

CHF

Lung cancer

Breast cancer

Colon cancer

CHD

Stroke
The goal of this particular tool is to aid users in modifying their behavior in order to lower risk. At the end of this process, data is reported via a graphic chart, which allows the participant to readily recognize key points and effective lifestyle changes.
This health risk assessment is based on a Synthesis Analysis, making it one of the most comprehensive and thorough assessments available on the market today. By combining a participant's questionnaire data, clinical measurements, biometric readings and evidence-based research, the assessment provides accurate and well-rounded information.
Having results laid out in a graph makes the assessment easy for anyone to benefit from and provides a wonderful reminder and encouragement for participants as they seek to modify behavior in order to reduce risk. This health risk assessment also provides personalized plans to reduce risks for every individual. One user stated, "I put the graphs on my refrigerator to remind me why I need to change."
Why Provide a
Health Risk Assessment
for Your Workforce?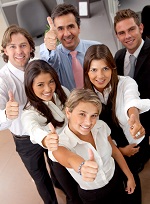 The Know Your Number assessment is an easy and extremely effective tool to provide for your workforce. The assessment is available in two languages and there is no necessary software. Wellworks For You offers everything your employees will need to complete the health risk assessments with 24/7 access to web content. Our support staff is also always available to aid your company as you seek to offer these great services to your employees.
This one simple tool could be a lifechanger for many people working in your office. Gaining this valuable information often opens people's eyes up to areas in their life that could benefit from change that they otherwise would not have considered. Help your employees make a positive change, with little effort and cost on your part. Contact Wellworks For You today to learn more about getting started with this program.