Wellworks is proud to offer a convenient wellness web portal for all your company's wellness program tracking needs. We have developed this portal with you in mind and we've designed it in order to make your wellness journey as easy and simple as possible. If you are serious about saving money for your corporation and encouraging healthier lifestyles among your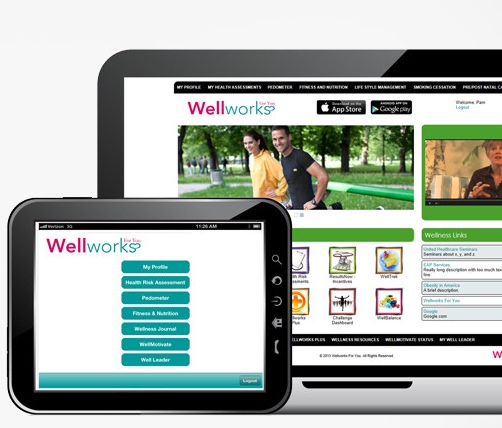 employees, this wellness web portal can help keep you on track and motivated to continue working toward your goals. This resource will provide a place to gather, store and reference all the information you'll need to know along the way. It will allow for easy communication between participants and health coaches, and it will enable you to see and track the results of your program in one easy location.    
3 Ways our Wellness Web Portal Will Make Your Employees' Lives Easier
1) ONE Place for Their Information
In each participant's login-protected wellness web portal, they will be able to access any information they might need. This includes:
monthly newsletters

weekly recipes and grocery lists

their own personalized wellness calendar

an interactive fitness and nutrition planner

health screening results

a personal wellness journal

and MORE!…
Consider the wellness web portal as the central hub for an individual's wellness journey. Employees can access incentives, develop and accomplish goals, make appointments online, and stay updated on wellness events and programs. There are even monthly trivia questions with prizes! Your customizable wellness web portal provides your participants  with all the resources and tools that you need to succeed.
2) Easy Communication with a Health Coach
Our wellness portal will also allow employees to easily communicate with a health coach. Our goal at Wellworks For You is to address corporate wellness needs by providing advanced tools and excellent management. We believe that the one-on-one health coach option that we provide is one of the most effective tools your company can take advantage of. A health coach is a cheerleader for your participants, helping them to make diet and exercise adjustments and start to enjoy a healthier lifestyle. Health coaches will help employees set goals and get educated on wellness related topics. They will also assist participants in improving their health by serving as a constant source of encouragement. This includes:
nutrition counseling

stress management assistance

weight management assistance
A health coach can also help a participant keep tabs on their blood pressure, cholesterol levels and many other health indicators. If an employee is trying to quit smoking, lose weight, eat better, or manage their stress, their coach will be a great resource for them along the way.
3) Ability to View & Track Results
One of the best and most useful features of a wellness web portal is the ability to see and track all results in one central hub. As participants create goals and work towards them, they will be able to chart their progress. This will keep employees encouraged and motivated to keep moving forward. With access to over 36 health metrics as tools to help track results, participants will find that they can stay on top of any health conditions or risk factors they may discover along the way.
Your wellness web portal is going to be one of the most important resources in your company's wellness program. That's why we have designed it with you in mind – so that you have everything you need to accomplish your wellness goals. For more information about how our customizable portal can help take your program to the next level, check out our free ebook below!
For more information about our helpful, customizable web portal, check out this
informative video
or download our
free ebook
all about the WW4U wellness website!
{{cta('c51f3378-88c3-40bd-8fe4-193b2edee5bc')}}