With reports of over 1.5 billion smartphone owners around the globe, businesses are now offering their services and websites through apps. And we're pleased to announce that our Wellworks employee wellness website is compatible with your smartphone through our convenient mobile app. Now, your company's participating members can access all the resources we have to offer no matter where they are. It is easier than ever to track goals and organize healthy habits.Because the website is now so easily accessible, your members will benefit from your wellness program even more! Maintaining a healthier lifestyle just got even better. In fact, tracking workout goals and diet can be done even while a user is at the gym or sitting down to eat a meal.
Our Custom Employee Wellness Website is now Available in App Form!
More Convenience
 Many of our clients previously did a great job tracking their progress through their employee wellness website while at work. But once the workday was over, the tracking became less efficient. We found that many participants simply did not want to log back onto the website in the evening to record a meal or track their miles walked. And often, by the next day, they would forget to record those results at all. We found that this led to less motivated clients and less accurate tracking of program performance.
So, we developed the mobile app so the employee wellness website can be accessed on the go, anytime! Even if you're on vacation or out of town, you can organize and manage your information through our app. We even added some new features to the mobile app.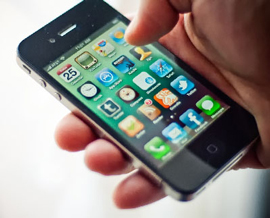 You can now use your smartphone itself as a pedometer and calorie tracker. This data will be linked directly to your wellness portal. You can also access your wellness journal, your wellness challenge status, your wellness calendar, education videos, and much more.
Comprehensive Reporting
Tracking and reporting are what make an employee wellness website useful and interactive. Wellworks' completely comprehensive reporting system allows both the employee and the employer to track ongoing success through the mobile app for the employee wellness website. Our system is HIPAA compliant and personal information is always kept confidential. Through the mobile app, employees and employers can access and view reports on items such as health risk assessments or program participation and results. This allows the employer to keep track of everyone at once, while the employee still maintains their own confidentiality and privacy.
Also available through the mobile app are personalized planners for fitness and nutrition, and personalized calendars that employers can use to highlight any upcoming events such as health fairs or health risk assessment dates. Daily nutrition tips are sent out to continue encouraging a healthy lifestyle and to give employees an interactive way in which to continue their wellness journey.
Join billions of people around the world in taking advantage of technology and using your smartphone to access our state-of-the-art mobile app for your employee wellness website. Wellworks For You takes pride in making wellness realistic and achievable. This is just one step we've taken to make it easy for you as well.
Check out a free presentation of our smartphone app and let us know what you think!
{{cta('c70820bf-4527-47bd-aa1f-403bd465787f')}}